Skip to product information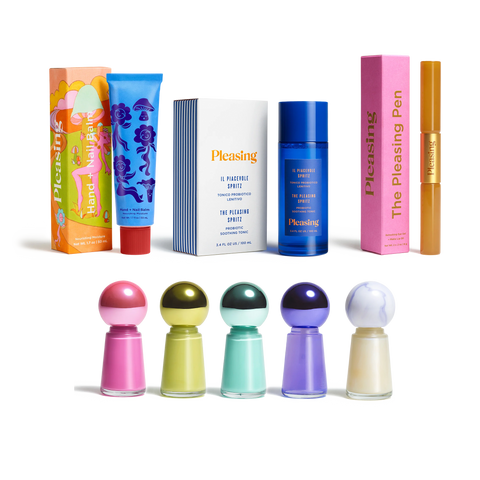 The Ultimate Hand & Nail Kit
£165.00
The Ultimate Hand and Nail Kit is a collection of polishes and hand care to treat yourself or a loved one to the perfect at-home manicure, including The Super Magic Family Time Set, Hand + Nail Balm, The Pleasing Spritz, The Pleasing Pen Special Edition Gold, and Pearly Tops.
When you purchase The Ultimate Hand and Nail Kit, you'll receive The Shroom Bloom Set as a gift from Pleasing.
About the products
The Super Magic Family Time Set is made up of three vibrant shades and one nourishing base coat of biodegradable 12-free nail polish formula inspired by an alternate, knowingly retro look to a festive color palette. It includes Syrupberry, a vibrant pink creme polish; Pea in the Punch, an electric green creme polish; Pinechrome, a yummy teal creme polish, and Bottoms Up, a nourishing base coat.
Hand + Nail Balm is essential hand and nail cream that melts into skin with no greasy feel, protecting hands against drying elements and enriching nail beds for healthy-looking nails. Snow Mushroom, rich in natural plant collagen, helps skin retain moisture, while Shea Butter wraps hands in a soothing and softening cocoon.
The Pleasing Spritz is an instant fresh wake-up for skin and spirit. Probiotic Lactobacillus Ferment, Niacinamide, and Algae rebalance and energize the skin, while Hyaluronic Acid helps provide an instantly smoother, dewier skin appearance with long-lasting effect. Aromatherapeutic Bitter Orange and Eucalyptus reset and uplift the senses. Mist liberally to refresh skin throughout the day or use to provide a smooth base or dewy finish for makeup.
The Pleasing Pen from our first-ever micro-collection, Perfect Pearl, returned for Holiday '22 with a celebratory do-over in a shimmering ochre shade. The Pleasing Pen Special Edition Gold's two potent serums are delivered with cooling steel rollers to refresh lips and eyes.
Pearly Tops is a clear polish with a subtle iridescence and a matte finish. Designed to be worn solo as a barely-there effect, Pearly Tops also happily tops any polish to transform it to a matte finish and enhance its luminescence.
Each formula is vegan, cruelty-free, gluten-free and adheres to clean principles.