Skip to product information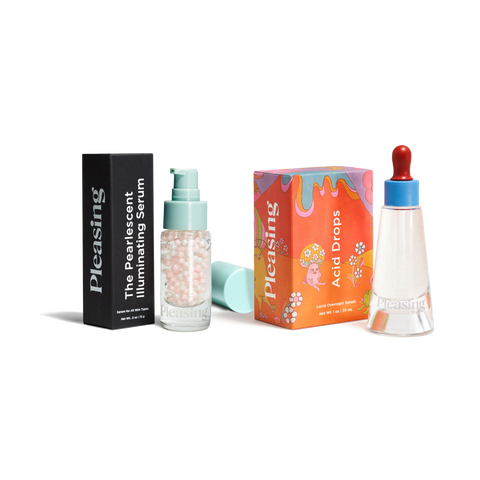 The Day and Night Kit
£60.00
The Day and Night Kit from Pleasing brings together our day and night serums: The Pearlescent Illuminating Serum and Acid Drops Lucid Overnight Serum. Together, these well-paired products will work to brighten, hydrate and even skin tone thanks to their naturally derived ingredients. 
When you purchase The Day and Night Kit, you'll also receive a bottle of Pearly Tops as a gift from Pleasing.
About the products
The Pearlescent Illuminating Serum's moisturizing formula contains Vitamin B5, Antioxidants and Amino Acids for all skin types. The encapsulated pearls are created with lab-safe mica for a subtle, smooth luminescence that dissolves into the formula when dispensed. Use daily, either alone, or as a priming base for makeup. 
Acid Drops gently reveals a bright, replenished glow, resetting skin from the effects of stress and pollution. Natural Malic Acid, an AHA from apples, helps remove dead skin cells. Our upcycled Hibiscus Acid, sustainably sourced from a positive impact program in Burkina Faso, West Africa, refines the appearance of pores, resulting in smooth lucidity.
Each formula is vegan, cruelty-free, gluten-free and adheres to clean principles.